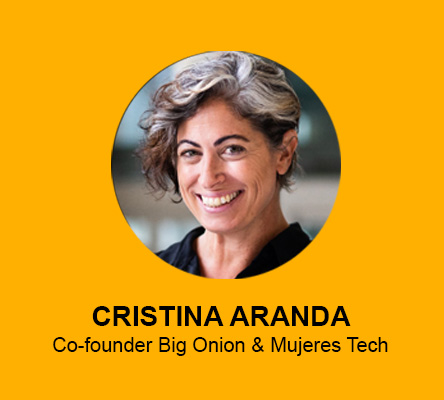 Cristina Aranda
Cristina Aranda is co-founder of Big Onion, a team of solutionists for every layer of technology or IT, innovation and cultural transformation of companies. She is co-founder of Mujeres Tech, a non-profit association that aims to promote initiatives so that there are many more women in different positions in the digital sector. In addition, Dr. Aranda is co-founder of the ELLIS Alicante center, dedicated to addressing fundamental challenges in AI with a focus on research excellence and social impact, and co-founder of the Spain AI Aragón community. 
Cristina is an advisor on technology and diversity to different public and private institutions. She belongs to the Red.es gender desk of the Ministry of Economic Affairs and Digital Transformation and leads the technology area of the Think Tank Covid19 of the Government of Aragon. In October 2018 she was considered by Business Insider as one of the 30 Spaniards in the tech world to follow on Twitter and selected as one of the Top 100 women. In 2019 Emprendedores magazine considered her one of the 9 most influential young entrepreneurs in Spain and in December 2020 she was considered one of the 20 most influential people in the Digital sector in Spain by Merca2 magazine. She was a speaker at TEDxZaragoza 2018 and LBTalks Barcelona 2019.
Cristina has a PhD in Theoretical and Applied Linguistics, a degree in Hispanic Philology, a Master in Internet Business, a Social Innovation Fellow of the US Embassy and the Meridian Intl. Center, Certified Professor of the EOI and Director of the Data in Real Life module of the Master Data Analytics of ISDI.
And something that very few people know is that Cristina really loves to improvise and has participated in several catch championships. Now, the poor girl, she only improvises in work meetings...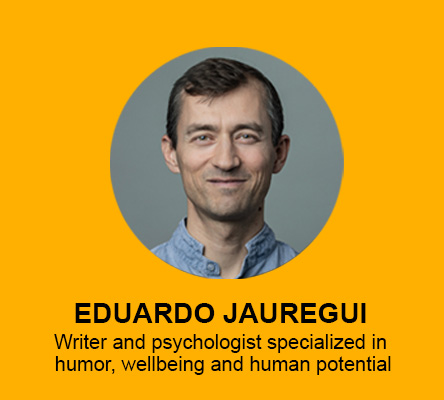 Eduardo Jáuregui

Eduardo Jáuregui is a doctor in Social and Political Sciences with a doctoral thesis on the subject of laughter and humour. He has taught an undergraduate positive psychology course at Saint Louis University (Madrid Campus), participated in the masters programs of several universities, and facilitated Hyper Island master classes in London, Paris and New York. He is also a partner of Teamlabs, a radical learning lab with campuses in Madrid, Barcelona, Malaga and Mexico
Eduardo founded the humor skills consultancy
Humor Positivo
in 2004, using improv games among other methodologies to awaken the creative spark, foster teamwork and improve wellbeing in the workplace. In the course of his crusade to take fun seriously, he has successfully promoted
Fun at Work day in Spain
 since 2008. He has also taught yoga and meditation for over 20 years, and currently directs the mindfulness school
ModoSer
. 
He is the author o co-author of 16 books published in 20 languages, including three monographs on the sense of humor, the novel
Conversaciones con mi gata
("Conversations with my Cat"), the Disney comic book
Storied Places
and the story of the Beatles' hairdresser,
The Cutting Edge
. His newest book is a guide to mindfulness practice for people who will never become the Dalai Lama:
Meditar se me da fatal
("I'm a lousy meditator").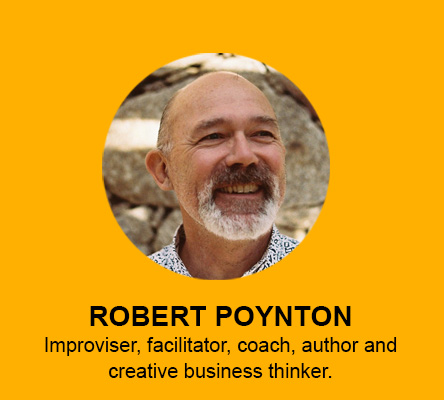 Rob's work has been a lifelong improvisation. He left London to work in Madrid only to move to Argentina, where he worked (virtually) for a company in Scotland (and that was in 1994!). A chance meeting with Gary Hirsch led to an improv based business (On Your Feet) that is still thriving today. Another unplanned twist lead to twenty years of work at Oxford University's Saïd Business School (where he is an Associate Fellow). He has worked with companies like PwC, the BBC and Merck and spoken at the Skoll World Forum and Singularity University Global Summit.

He has written two books about applied improv ('Everything's An Offer' and 'Do Improvise'. In 2020, prompted by the pandemic he founded two new on-line ventures - Yellow (agenda less online learning) and 'The Everyday Improviser'.
He divides his time between an off grid house in Arenas de San Pedro (which,funnily enough is in the province of Avila) and Oxford.

For more information see www.robertpoynton.com.